Beetles
by A. Bochdansky & M. Kriftner




THE AUTHORS






Whenever the conversation with people who don't know us too well comes to our passion, studying, collecting and photographing beetles, we are always confronted with the same kind of reaction:

"Why on earth are you interested in beetles?"

Of course, what they really think is this:

"What kind of lunatic would want to spend his precious time on these mind-boggingly stupid, disgusting bugs?"

With this Web site we want to answer both questions. So have a look and be prepared that your point of view could easily be altered if you give yourself the chance to discover a new side of nature. In case you are following us at our journey through the fascinating world of beetles, we will always be ready to answer every arising question you're mailing to us.

Visitors who already became addicted to the spirit of Beetlemania are asked to send us new ideas and tips, especially concerning our new projects and expeditions. We're looking forward to reading your opinion on our Web site, stories and photos. If you're also working on a comparable site, we would be more than pleased to link your adress on our pages.


THE AUTHORS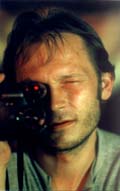 Michael Kriftner
Michael, born in 1965, lives in Linz, the capital of Upper Austria (ever heard of Anton Bruckner?). He studied biology and has been researching the beetles' way of life since the age of nine. Michael is working as a managing director and Web designer for Source Communication & Information and is also well known as a successful musician, leading his own pop band. This Web site has been designed by Michael, including all logos and drawings. He also took some of the photos.
Andrea Bochdansky
Born in 1964, Andrea lives in Vienna, the capital of Austria (yes, it's all Mozart, Sängerknaben and Lipizzaners!). Having studied biology as well, she got hooked on beetles by listening to Michael's tales of The Big Bugs. She's currently working for NEWS, Austria's most influental weekly magazine. Andrea has specialized in macro-photography and took most of the pictures.
All photos were taken with Nikon equipment: F-801s body, Micro Nikkor 60 mm/1:2,8 D, adapter PK-12 and two flashes (SB-25 and SB-22).