Beetles
by A. Bochdansky & M. Kriftner




AFRICAN BEETLES






This Cetonida is quite common in Cote d'Ivoire. It is about 2 cm long.








This one was found in the Banco-National-Park, which is a piece of rainforest near Abidjan, the most important city of Cote d'Ivoire. I was told it's rare. It belongs to the family of Cetonidae (Flower Beetles) too.







This one belongs to the family of Lycidae and was found near the beach in Grand Bassam / Cote d'Ivoire.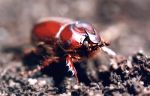 This strange Rhino-Beetle was attracted by light on the Cote d'Ivoire.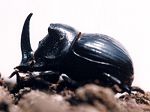 A dung beetle (Coprinae) showing his enormous horn. This one is from South Africa.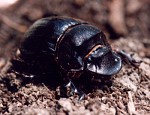 This one belongs (in my opinion) to the genus of Heliocopris, which are very powerful dung beetles. The head is perfectly designed for digging. It's from South Africa too.